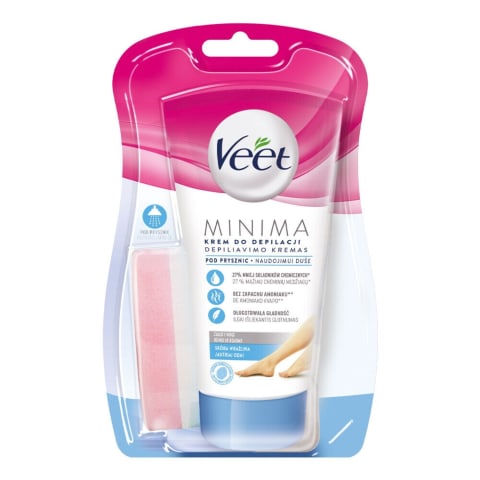 -40%
Depiliacinis kremas VEET INSHOWER SENSITIVE, 135 ml
Offer valid from 2020-11-24 till 2020-11-30
Maximum amount is reached
Country of origin

France

Brand

Veet

Producer

RECKITT BENCKISER

Amount

0.135 l
Product description
Depiliavimo kremas "Veet", skirtas naudoti duše. Su raminamuoju alavijų ekstraktu ir našlaičių aromatu. Skirtas jautriai odai, kūnui ir kojoms. Veiksmingas plaukelių šalinimas, šilko švelnumo odos pojūtis ir malonus kvapas. "Veet" ne tik drėkina odą iki 24 valandų – kliniškai įrodyta, kad jis užtikrina iki 7 dienų išliekantį odos glotnumą. TINKA IR MOTERIMS, IR VYRAMS Nušveičia ir sudrėkina odą Patikrintas dermatologų. Užtrunkama 5 - 10 minučių.
Instructions
Tik 5 žingsniai: 1. Prieš naudojimą gerai susipažinkite su atsargumo priemonėmis. Prieš prausiantis duše, minkštąja spalvota kempinėles puse tolygiai užtepkite kremą ant sausos odos. Netrinkite. Įsitikinkite, kad plaukeliai, kuriuos norite pašalinti, yra visiškai padengti kremu. Nepamirškite nuplauti kremo likučių nuo rankų. 2. Palaukite bent 2 minutes ir tik po to eikite į dušą. 3. Prauskitės duše, kaip įprasta. Kad kremas nenusiplautų per greitai, pirmąsias 3 minutes saugokite kremu padengtas vietas nuo tiesioginės vandens srovės. Įprastai, po to kremas po truputį nusiplauna. 3. Praėjus 5 minutėms po kremo užtepimo, švelniai baltąja kempinėlės puse nuvalykite kremą nuo nedidelio odos plotelio. Jeigu plaukeliai pasišalina lengvai, kempinėle sukamaisiais judesiais nuvalykite visą plotą. Jeigu jūsų plaukeliai kietesni, kremą ant odos galite palikti dar 5 minutes, bet ne ilgiau, kad neviršytumėte bendrosios 10 minučių trukmės. Jautresnėse kūno vietose kremą valykite minkštąja spalvota kempinėles puse. 5. Oda gerai nuplaukite vandeniu, nuvalykite visus kremo likučius, po to nusausinkite. Išskalaukite kempinėle, nenaudojamą tūbelę laikykite uždarytą, kad kremas neprarastų veiksmingumo.
Warning!
ATSARGUMO PRIEMONĖS: Išsaugokite dėžutę, nes ant jos pateikta išsami informacija apie atsargumo priemones. Prieš naudojimą susipažinkite su atsargumo priemonėmis ir naudojimo nurodymais, jų laikykitės. Neviršykite 10 minučių bendros ekspozicijos trukmės. Skirtas depiliuoti kojas, rankas, pažastis ir bikinio sriti. NENAUDOKITE ant galvos, veido, akių, nosies, ausų, aplink išeinamąją angą, ant lyties organų ir spenelių bei kitose kūno vietose. Nenaudokite ant išsiplėtusių venų, randų, apgamų, dėmėtos, pažeistos, sudirgintos, saulėje nudegusios odos ir jei oda jau anksčiau neigiamai reagavo į kremą. Tarp plaukeliu šalinimo procedūrų visada darykite 72 val. pertrauką. Jei vartojate odai poveikį darančius vaistus, sergate odos ligomis arba jūsų sveikatos būklė gali daryti poveikį odai, dėl kremo naudojimo pasitarkite su gydytoju. Kaskart prieš naudojimą PATIKRINKITE SAVO ODOS REAKCIJĄ: užtepkite kremo ant nedidelio depiliuojamos odos plotelio ir nuvalykite jį kaip nurodyta instrukcijoje. Jei per 24 VALANDAS nepasireiškia nepageidaujama reakcija, tęskite naudojimą. Jei jaučiate dilgčiojantį skausmą ar perštėjimą, nedelsdami nuvalykite kremą, o odą rūpestingai nuplaukite šaltu vandeniu. Jei deginimo pojutis nepraeina, kreipkites į gydytoją. Trumpai po procedūros oda gali būti jautresnė, jos nekasykite. 24 valandas po depiliacijos rekomenduojame nenaudoti antiperspirantų, parfumerijos produktų, dirbtinio įdegio įrangos, neplaukioti ir nesideginti. LAIKYTI VAIKAMS NEPRIEINAMOJE VIETOJE. Prarijus, nedelsiant kreiptis į gydytoją ir parodyti pakuotę. Vengti patekimo į akis. Patekus į akis, nedelsiant gerai praplauti vandeniu ir kreiptis į gydytoją. Sudėtyje yra šarmų ir tioglikoliatų. Prieš naudojimą gerai susipažinti su instrukcija. Produktui patekus ant paviršių, jie tampa slidūs. Vengti patekimo ant kilimų, drabužių ir grindų dangos.
**While every care has been taken to ensure product information is correct, food products are constantly being reformulated, so ingredients, nutrition content, dietary and allergens may change. You should always read the product label and not rely solely on the information provided on the website.