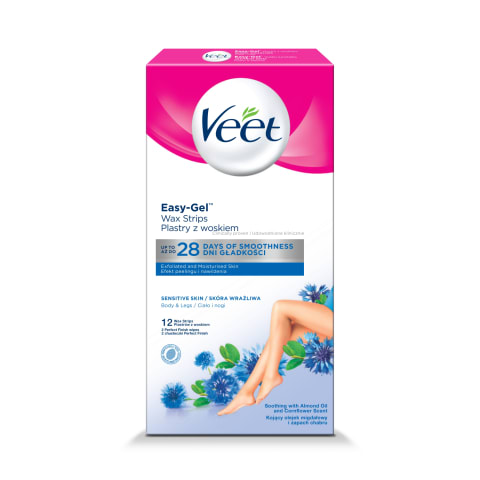 Depiliacinės vaško juostelės VEET COLD WAX STRIPS SENSITIVE SKIN, 12 vnt.
Maximum amount is reached
Country of origin

France

Brand

Veet

Producer

Reckitt Benckiser Donglee Industrial Co.,Ltd

Amount

12 pcs.
Product description
Depiliavimo vaško juostelės jautriai odai VeetTM EasyGrip™. Įrodyta, kad pašalina net labai trumpus plaukelius*. Iki keturių savaičių išliekantis glotnumas. Depiliuoti vašku dar niekad nebuvo taip paprasta! Išbandykite vaško juosteles EasyGrip™ su specialiu krašteliu patogiam sugriebimui, kuris padeda pasiekti puikių rezultatų vienu lengvu judesiu! Ilgai išliekantys rezultatai: jūsų oda išliks juntamai glotni iki 4 savaičių! Priešingai nei skustuvai, depiliavimo vaško juostelės VeetTM šalina plaukelius su šaknimis. Be to, kliniškai įrodyta, kad plaukeliai atauga retesni, plonesni ir švelnesni. *Įrodyta, kad tinka dar trumpesniems plaukeliams (1,5 mm**) - pašalina vos 1,5 mm ilgio plaukelius, todėl trumpiau lauksite kol plaukeliai ataugs ir vėl juos bus galima šalinti vašku! Ant juostelių atspausdintos 1,5 mm padalos, padės nustatyti, ar plaukeliai yra pakankamo ilgio. Rūpinasi jūsų oda: depiliavimo vaško jautriai odai VeetTM sudėtyje nėra dažiklių, jis papildytas migdolų aliejumi ir vitaminu E, kurie žinomi dėl naudingo poveikio odai. (** 1,5 mm, palyginus su 2 mm ankstesnio tyrimo metu.)
Instructions
Naudojimas (žr. paveikslėlius ant pakuotės). Susipažinkite su atsargumo priemonėmis. 1. Patrinkite vaško juostelę tarp delnų, kad vaškas sušiltų. 2. Laikant už kraštelio EasyGrip™, lėtai atskirti juosteles. 3. Uždėti juostelę taip, kad kraštelis EasyGrip™ būtų nukreiptas kulkšnies link, ir keliskart išlyginti plaukelių augimo kryptimi. 4. Laikant už kraštelio EasyGrip™, vienu greitu judesiu nuplėšti juostelę į save. Laikyti ją kuo arčiau odos. Įtempti odą – tai padės išvengti nemalonių pojūčių. 5. Po depiliavimo ant odos likusį vašką nuvalyti servetėle.
Warning!
Atsargos priemonės. Laikykitės naudojimo nurodymų. Išsaugokite popierinę pakuotę. Skirtos kojų, rankų, pažastų ir bikinio srities depiliavimui. Nenaudokite ant veido, galvos, krūtinės, tarpvietės ir genitalijų srityje bei kitose kūno vietose. Nenaudokite ant išsiplėtusių venų, apgamų, randų, pažeistos, sudirgintos, saulėje nudegusios odos ir jei oda jau anksčiau neigiamai reagavo į vašką. Plaukeliai turėtų būti nuo 1,5 iki 5 mm ilgio. Jei ilgesni, patrumpinkite žirklėmis, kad naudodama vašką išvengtumėte nemalonių pojūčių ir odos pažeidimo. Jei vartojate vaistus, kurie gali sudirginti odą, arba sergate odos ligomis, prieš naudodama vašką pasitarkite su gydytoju. Depiliavimas vašku netinka vyresnio amžiaus, sergantiems diabetu ir vartojantiems peroralinius retinoidus asmenims. Jei anksčiau nesate naudojusi vaško, pradėkite plaukelių šalinimą nuo kojų. Jautrias vietas, tokias kaip pažastys ir bikinio sritis, depiliuokite tik kai įgausite patirties. Nenaudokite vaško du kartus toje pačioje vietoje vienos procedūros metu. 24 valandas po depiliacijos rekomenduojame nenaudoti antiperspirantų, produktų su kvapiosiomis medžiagomis, dirbtinio įdegio priemonių, neplaukioti ir nesideginti saulėje. Kiekvieną kartą prieš naudodama PATIKRINKITE ODOS REAKCIJĄ: kaip nurodyta, uždėkite vaško ir servetėlės ant nedidelio depiliuojamos odos plotelio ir po to nuvalykite. Jei per 24 val. nepasireiškia nepageidaujama odos reakcija, vašką galite naudoti. Saugoti nuo vaikų. Prarijus, nedelsiant kreiptis į gydytoją ir parodyti popierinę pakuotę. Jei naudodama vašką jaučiame dilgčiojantį skausmą ar perštėjimą, nedelsdama nuvalykite vašką servetėle arba antrąja panaudotų juostelių puse, rūpestingai nuplaukite odą vandeniu ir uždėkite šaltą kompresą. Jei sudirginimas nepraeina, kreipkitės į gydytoją. Depiliavimas vašku tinka ir nėščiosioms, bet gali atsirasti mėlynių.
**While every care has been taken to ensure product information is correct, food products are constantly being reformulated, so ingredients, nutrition content, dietary and allergens may change. You should always read the product label and not rely solely on the information provided on the website.