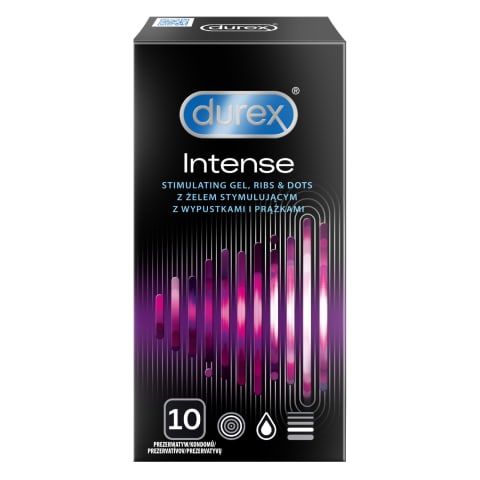 Prezervatyvai DUREX INTENSE, 10 vnt.
Maximum amount is reached
Country of origin

China

Brand

Durex

Amount

10 pcs.
Product description
Prezervatyvai "Durex Intense", 10 vnt. Su briaunelėmis ir gumburėliais bei stimuliuojamuoju geliu "Desirex", sukeliančiu šilumos, šalčio ir dilginimo pojūčius. Lengvai užmaunami, su spermos talpykla – patogūs ir gerai priglunda. Skaidrūs natūralaus kaučiuko latekso prezervatyvai padengti geliu. Nominalusis plotis 56 mm. Mėtų aromatas. Atidžiai perskaitykite naudojimo nurodymus. Prezervatyvą naudokite tik kartą. Joks kontracepcijos metodas 100 % neapsaugo nuo nėštumo, ŽIV ir lytiniu keliu perduodamų infekcijų. Patikrinta dermatologų. Prezervatyvai "Durex Intense" netinka analinei sueičiai. Šis produktas gali sukelti dirginimą. Jeigu taip nutiktų, nebenaudokite. Jei nepagerėja, kreipkitės į gydytoją. Kartu su prezervatyvais naudojami geliai "Durex Play™" gali sustiprinti malonumą. Informacijos apie konkretaus gelio suderinamumą su prezervatyvais ieškokite jo instrukcijoje. DUREX yra įmonių grupės "Reckitt Benckiser" registruotasis prekių ženklas ir dizainas. 100 % patikrinta elektroniniu būdu. Laikyti vėsioje sausoje vietoje, atokiai nuo tiesioginės saulės šviesos. Atitinka standarto ISO 4074 reikalavimus.
Instructions
Prezervatyvų "Durex" naudojimas: uždėkite prezervatyvą iki varpai paliečiant kitą asmenį. Tai padeda išvengti nėštumo ir grėsmės užsikrėsti lytiniu keliu perduodamomis infekcinėmis ligomis. Prieš naudojimą patikrinkite tinkamumo naudoti terminą, nurodytą ant pakuotės. Jeigu individuali prezervatyvo pakuotė akivaizdžiai pažeista, prezervatyvą išmeskite ir rinkitės kitą, su nepažeista pakuote.  Prezervatyvo uždėjimas: 1. Elkitės atsargiai, nepažeiskite prezervatyvo nagais ir aštriais daiktais. 2. Įsitikinkite, kad ritinėlis yra išorėje, suimkite už spenelio formos galiuko ir užmaukite prezervatyvą ant sustandėjusios varpos galvutės. 3. Užvyniokite prezervatyvą iki varpos pagrindo. Patikrinkite, ar prezervatyvas nesmunka, ar neapgaubia per tampriai, nes dėl to jis gali plyšti. Prezervatyvą numaukite iš karto po ejakuliacijos. Prezervatyvą tvirtai suimkite ties varpos pagrindu ir taip laikydami numaukite. 4. Išmeskite į šiukšlių dėžę. Nemeskite į unitazą. 
Warning!
SUSTOKITE, jei naudojant prezervatyvą jūs arba  partnerė (-is) jaučia diskomfortą arba dirginimą. Šie prezervatyvai yra pagaminti iš natūralaus kaučiuko latekso, todėl asmenims, jautriems lateksui, gali pasireikšti alerginė reakcija ir net anafilaksinis šokas. Jeigu prezervatyvą pirmiausia naudojate oralinei sueičiai, po to bet kokiai kitai sueičiai užmaukite naują prezervatyvą. Prezervatyvą naudokite tik vieną kartą. Naudojant pakartotinai, gali išaugti plyšimo ir infekcijų pernešimo rizika. Pasitarkite su gydytoju arba vaistininku, jei: naudojate vietinio poveikio varpos ar makšties vaistus; po naudojimo išlieka dirginimas ar diskomforto pojūtis; įtariate, kad galite būti alergiška(-as) lateksui; naudojant prezervatyvas prateka arba suplyšta (kreipkitės kuo greičiau per 72 valandas).  
**While every care has been taken to ensure product information is correct, food products are constantly being reformulated, so ingredients, nutrition content, dietary and allergens may change. You should always read the product label and not rely solely on the information provided on the website.