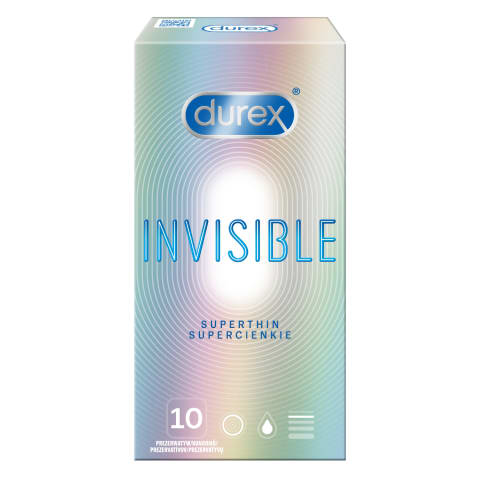 Prezervatyvai DUREX INVISIBLE EXTRA SENSITIVE, 10 vnt.
Maximum amount is reached
Country of origin

China

Brand

Durex

Amount

10 piece
Product description
Prezervatyvai "Durex Invisible Extra Sensitive" yra itin ploni, didesniam jautrumui. Lygiomis sienelėmis, su spermos rezervuaru. Skaidrūs natūraliojo kaučiuko latekso prezervatyvai, padengti geliu. Nominalusis plotis 52 mm. Prezervatyvai "Durex Invisible" itin ploni, jie užtikrina ne tik maksimalų jautrumą, bet ir aukštą saugumo ir apsaugos lygį. Mūsų latekso prezervatyvai lenkia tarptautinio kokybės standarto ISO 4074 reikalavimus. Atidžiai perskaitykite nurodymus, pateiktus pakuotės vidinėje pusėje, ypač jei prezervatyvus naudojate analinei ar oralinei sueičiai. Paveikslėlis ant pakuotės rodo, kaip teisingai uždėti prezervatyvą. Prezervatyvą visada maukite taip, kad ritinėlis liktų išorėje, kaip pavaizduota. Prezervatyvą naudokite tik kartą. Joks kontracepcijos metodas 100 % neapsaugo nuo nėštumo, ŽIV ir lytiniu keliu perduodamų infekcijų. Kartu su prezervatyvais naudojami intymieji ir masažo geliai "Durex Play™" gali sustiprinti malonumą. Informacijos apie konkretaus gelio suderinamumą su prezervatyvais ieškokite jo instrukcijoje.
Instructions
 Kaip naudoti prezervatyvą? 1. Nuplėškite dantytą paketėlio kraštą. Elkitės atsargiai, nepažeiskite prezervatyvo nagais ar aštriais daiktais. 2. Įsitikinkite, kad ritinėlis yra išorėje, suspauskite spenelio formos galiuką ir užmaukite prezervatyvą ant sustandėjusios varpos galvutės. 3. Išvyniokite prezervatyvą iki varpos pagrindo.  Sustokite ir patikrinkite, ar nesmunka, ar neapgaubia per tampriai, nes dėl to jis gali plyšti. Prezervatyvą numaukite iškart po ejakuliacijos. Tvirtai suimkite prezervatyvą ties varpos pagrindu ir taip laikydami nusmaukite. 4. Paketėlį ir panaudotą prezervatyvą išmeskite į šiukšlių dėžę. Nenuleiskite į unitazą. Prezervatyvus laikykite vėsioje ir sausoje vietoje, saugokite nuo tiesioginės saulės šviesos.
Warning!
Keli įspėjimai. Rinkitės tik tokius intymiuosius gelius, kurie rekomenduojami naudoti su prezervatyvais. Aliejiniai produktai (vazelinas, kūdikių aliejus, kai kurie pesarai) bei kai kurie vietinio poveikio makšties ir varpos vaistai gali pažeisti prezervatyvus. NUTRAUKITE NAUDOJIMĄ, jei naudodami jaučiate diskomfortą arba dirginimą. Prezervatyvą naudokite tik kartą. Kartotinis naudojimas gali padidinti plyšimo ir infekcijų pernešimo riziką. Jei prezervatyvą pirma naudojate oralinei sueičiai, po to bet kokiai kitai sueičiai užmaukite naują prezervatyvą. Analinei sueičiai prezervatyvą papildomai sutepkite iš išorės. Kada kreiptis pagalbos? Pasitarkite su savo gydytoju ar vaistininku, jei kyla įtarimų, kad esate alergiški lateksui, jei po naudojimo išlieka dirginimas ar diskomforto pojūtis, jei naudojate vietinio poveikio varpos ar makšties vaistus. Jei sueities metu prezervatyvas prateka ar plyšta, kuo greičiau ir ne vėliau kaip per 72 valandas kreipkitės į vaistininką arba gydytoją. 
**While every care has been taken to ensure product information is correct, food products are constantly being reformulated, so ingredients, nutrition content, dietary and allergens may change. You should always read the product label and not rely solely on the information provided on the website.