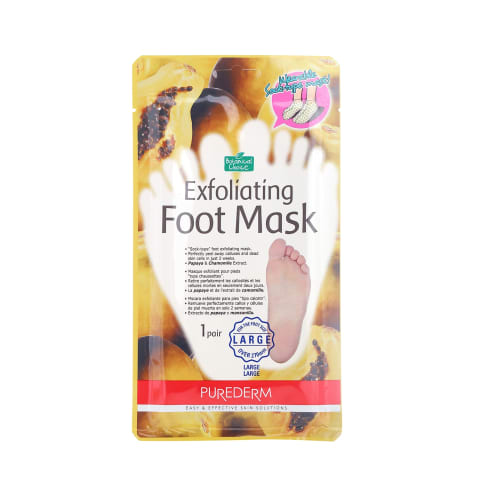 Kojų kaukė - šveitiklis PUREDERM LARGE, 1 vnt.
Maximum amount is reached
Country of origin

Korea

Brand

Botanical Choice

Amount

1 piece
Product description
Purederm Exfoliating Large šveičiamojo pėdų kaukė - kojinės. Pėdų kaukė-šveitiklis su papajų ir ramunėlių ekstraktu pašalina nuo kojų negyvas odos ląsteles ir puikiai drėkina odą. Užsimaukite ant kojų lyg įprastas kojinaites. Pašalina suragėjusį ir sustorėjusį odos sluoksnį, oda tampa sveika, lygi ir švelni jau po 2 savaičių. Didelėms pėdoms (virš 270mm). Tinka vyrams ir moterims.
Ingredients
Vanduo, glicerinas, petrolatumas, distearildimonio chloridas, izopropilo palmitatas, cetilo alkoholis, cetilo etilheksanoatas, dimetikonas, Makadamijos riešutų aliejus, ceteareatas-12, Prunus Persica (persikų) vaisių ekstraktas, žaliosios arbatos lapų ekstraktas, hamamelio ekstraktas, medaus ekstraktas, taukmedžio sviestas, cetereatas-20, cetearilo alkoholis, cetilo palmitatas, glicerino stereatas, alantoinas, propileno glikolis, metilparabenas, tokoferilo acetatas, pantenolis, dikalio glicirizatas, dinatrio EDTA, propilparabenas, natrio chloridas, metilizotiazolinonas, meticholorizotiazolinonas, kvapiosios medžiagos.
Instructions
1. Nuplaukite kojas šiltu vandeniu ir nusausinkite. 2. Žirklėmis atkirpkite pakelį pagal pažymėtą liniją ir užsimaukite kojines. 3. Palaikykite 60-90 minučių ir po to nuplaukite kaukės likučius nuo odos. 4. Negyva ir sustorėjusi oda pradeda luptis praėjus 3-5 dienoms po panaudojimo. Nenaudokite odos sustorėjimams šalinti skirtų produktų, norėdami odą nušveisti!
Warning!
Venkite naudoti esant egzemai, odos pažeidimams ir saulės nudegimams. Patekus į akis, gerai praplaukite vandeniu. Laikykite vaikams nepasiekiamoje vietoje. Tik išoriniam naudojimui. Saugoti, kad nepatektų į akis. Nenaudoti turint individualų netoleravimą vienai iš sudėtinių dalių ar esant pažeistai odai.
**While every care has been taken to ensure product information is correct, food products are constantly being reformulated, so ingredients, nutrition content, dietary and allergens may change. You should always read the product label and not rely solely on the information provided on the website.