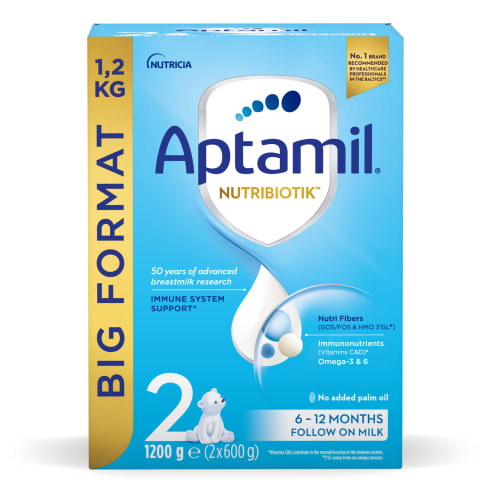 Pieno mišinys APTAMIL 2, nuo 6 mėn., 1,2 kg
Maximum amount is reached
Country of origin

Poland

Brand

Aptamil

Producer

NUTRICIA ZAKLADY

Amount

1.2 kg
Product description
Tolesnio maitinimo pieno mišinys kūdikiams, nuo 6 mėn. "NUTRICIA" turi daugiau nei 120 metų patirties kūdikių mitybos srityje. "NUTRICIA" komanda, kurią sudaro daugiau nei 500 mokslininkų ir specialistų, jau 40 metų vykdo novatoriškus tyrimus. Savo tyrimų pagrindu galėjome sukurti pieno mišinį "Aptamil"® su "Pronutra®-ADVANCE". Jis yra specialiai pritaikytas jūsų kūdikio mitybos poreikiams tenkinti kiekvienu jo vystymosi etapu. Vienintelė formulė Pronutra®-ADVANCE, kurioje mūsų unikalus sudedamųjų dalių mišinys suderintas su pažangiu mišinių kūdikiams kūrimo procesu. Naujos kartos pieno mišinio, sukurto remiantis 40 metų trukusiais motinos pieno ir kūdikių poreikių tyrimais, sudėtyje yra: patentuotas GOS/FOS mišinys su LCP, LCP: Omega-3 (DHA*) Omega-6 (AA), HMO 3'GL: 3'-galaktozilaktozė yra motinos pieno oligosacharidas. 3'GL, sukurta unikalaus proceso metu. Būtini vitaminai C ir D: padeda palaikyti normalią imuninės sistemos veiklą. *Sudėtyje yra DHA laikantis pagal teisės aktus visiems tolesnio maitinimo kūdikių mišiniams nuo 6 mėnesių taikomo reikalavimo. Supakuota naudojant apsaugines dujas.
Ingredients
Laktozė (iš pieno), augaliniai aliejai (palmių, rapsų, kokosų, saulėgrąžų, pavienių ląstelių), maltodekstrinas, lieso pieno milteliai, išrūgų baltymų koncentratas (iš pieno), galaktooligosacharidai (iš pieno), fruktooligosacharidai, kalcio karbonatas, žuvų taukai, kalio citratas, kalcio chloridas, cholino chloridas, L-askorbo rūgštis, natrio L-askorbatas, taurinas, sojų lecitinas, geležies sulfatas, kalcio fosfatas, magnio chloridas, inozitolis, DL-alfa-tokoferilacetatas, cinko sulfatas, L-triptofanas, di-natrio uridino 5'- monofosfatas, citidino 5'- monofosfatas, adenozino 5'- monofosfatas, inozino 5'- monofosfato natrio druska, nikotinamidas, L-karnitinas, guanozino 5'- monofosfatas, kalcio D-pantotenatas, pteroilmonogliutamino rūgštis, vario sulfatas, retinilo palmitatas, DL-alfa-tokoferolis, D-biotinas, tiamino hidrochloridas, cholekalciferolis, cianokobalaminas, piridoksino hidrochloridas, riboflavinas, mangano sulfatas, kalio jodidas, fitomenadionas, natrio selenitas.
Instructions
Svarbu tiksliai laikytis mišinio paruošimo ir dozavimo instrukcijos. Mišinį ruoškite šviežiai, sumaitinkite iš karto, nevartokite likučių. Nešildykite mišinio mikrobangų krosnelėje. Nusiplaukite rankas. Mišinio ruošimui naudokite tik švarius arba sterilizuotus indus. 1. Užvirinkite geriamą vandenį ir ataušinkite iki 40°C. Į buteliuką įpilkite lentelėje nurodytą vandens kiekį. 2. Mišinį dozuokite šaukšteliu, esančiu dėžutėje. Kaupą nubraukite švariu peiliu. 3. Į buteliuką įberkite tikslų miltelių kiekį. 4. Buteliuką užsukite ir laikant stačiai iš karto stipriai plakite 10 sekundžių arba kol ištirps milteliai. 5. Patikrinkite temperatūrą (turėtų būti 37°C). Laikymo sąlygos: pakuotę uždarykite ir laikykite sausoje vietoje (nuo 5 iki 25°C). Atidarytą pakuotę suvartokite per 4 savaites. Standartinis paruošimas: 100 ml paruošto mišinio = 90 ml vandens + 3 dozavimo šaukšteliai miltelių (14,4 g). 1 dozavimo šaukštelis = 4,8 g.
Additional information
Min storage temp.: 10° C

Max storage temp.: 25° C
| Nutrition | Amount per 100g/ml |
| --- | --- |
| energy | 285 kJ/ 68 kcal |
| fat | 3 g |
| of which saturates | 1.2 g |
| carbohydrate | 8.6 g |
| of which sugars | 6.5 g |
| protein | 1.4 g |
| salt | 0 g |
Warning!
Geriausias maistas kūdikiui yra motinos pienas. Jis aprūpina visomis būtiniausiomis medžiagomis. Prieš pradėdami vartoti pieno mišinį, pasitarkite su gydytoju. Vyresniems kaip 6 mėn. kūdikiams gydytojas gali patarti vartoti nuo šio amžiaus tinkantį papildomą maistą. Netinkamas pieno mišinio paruošimas, laikymas ir vartojimas gali pakenkti jūsų kūdikio sveikatai.
**While every care has been taken to ensure product information is correct, food products are constantly being reformulated, so ingredients, nutrition content, dietary and allergens may change. You should always read the product label and not rely solely on the information provided on the website.