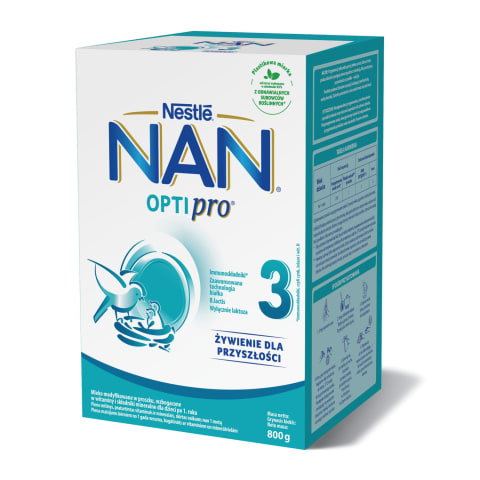 Pieno mišinys nuo 12 mėnesių NESTLÉ NAN OPTIPRO 3, 800g
Maximum amount is reached
Country of origin

Switzerland

Brand

NAN

Amount

0.8 kg
Product description
Pieno mišinys vaikams NAN® OPTIPRO® 3. nuo 1 metų. Svarbi pastaba. NAN® OPTIPRO® 3 – tai pieno mišinys, praturtintas vitaminais ir mineralais, specialiai sukurtas nuo 1 metų. NAN® OPTIPRO® 3, nėra skirtas pakeisti motinos pieną. Žindymas turi būti tęsiamas kuo ilgiau.
Ingredients
nugriebtas PIENAS, maltodekstrinas, augaliniai aliejai (palmių aliejus, rapsų aliejus su sumažintu eruko rūgšties kiekiu, saulėgrąžų aliejus), IŠRŪGŲ permeatas (iš PIENO), IŠRŪGŲ baltymų koncentratas (iš PIENO), LAKTOZĖ (iš PIENO), kalcio citratas, SOJŲ lecitinas , kalio citratas, kalcio fosfatas, ŽUVŲ taukai, natrio chloridas, natrio citratas, vitaminai (natrio L-askorbatas, DL-alfa- tokoferolacetatas, kalcio D-pantotenatas, nikotinamidas, tiamino mononitratas, retinilo acetatas, piridoksino hidrchloridas, riboflavinas, cholekalciferolis, filochinonas, folio rūgštis, D-biotinas, ciankobalaminas) magnio chloridas, kalio fosfatas, Mortierella alpina skurdenių aliejus, geležies sulfatas, cinko sulfatas, Bifidus Lactis kultūra, Streptococcus thermophilus kultūra, vario sulfatas, natrio selenatas, kalio jodidas
Instructions
Paruošimas: prieš ruošdami mišinį nusiplaukite rankas. Kruopščiai išplaukite puoduką ir dangtelį, kad neliktų mišinio likučių. Pavirinkite juos 5 minutes. Iki naudojimo laikykite uždengtus. Geriamąjį vandenį virinkite penkias minutes ir atvėsinkite iki maždaug 37 °C temperatūros. Į išvirintą puodelį įpilkite lentelėje nurodytą atvėsinto virinto vandens kiekį. Naudokite tik specialų dozavimo šaukštelį, kurį rasite šioje dėžutėje. Prieš naudojimą įsitikinkite, kad dozavimo šaukštelis yra išplautas ir kruopščiai nusausintas. Į puodelį suberkite tiek nubrauktų šaukštelių mišinio, kiek pagal vaiko amžių nurodyta lentelėje. Uždarykite ir kratykite puodelį, kol milteliai ištirps. Po kiekvieno naudojimo dėžutę sandariai uždarykite ir laikykite sausoje bei vėsioje vietoje (5-25 C°). Atidarius pakuotę suvartoti per 3 savaites.
Additional information
Min storage temp.: 10° C

Max storage temp.: 25° C
| Nutrition | Amount per 100g/ml |
| --- | --- |
| energy | 2025 kJ/ 484 kcal |
| fat | 3 g |
| of which saturates | 0.7 g |
| carbohydrate | 8.4 g |
| of which sugars | 4.9 g |
| protein | 1.5 g |
| salt | 0.1 g |
Warning!
Prašome laikytis paruošimo ir laikymo instrukcijų, pateiktų ant gaminio pakuotės. Svarbu: Geriausias maistas kūdikiui yra motinas pienas. Jis aprūpina visomis būtiniausiomis medžiagomis. Maitinimas iš buteliuko gali sumažinti kūdikio norą žįsti krūtį. Pieno pakaitalus naudokite tik tais atvejais, kai maitinti krūtimi nėra galimybės. Jei po 6 mėn. maitinti krūtimi nėra galimybės, rekomenduojama keisti mitybą. Naudoti tik pagal nepriklausomų asmenų, turinčių medicinos, mitybos ar farmacijos kvalifikaciją, arba kitų specialistų, atsakingų už motinos ir vaiko priežiūrą, rekomendaciją. Prieš pradėdami vartoti šį pieno mišinį, pasitarkite su gydytoju.
**While every care has been taken to ensure product information is correct, food products are constantly being reformulated, so ingredients, nutrition content, dietary and allergens may change. You should always read the product label and not rely solely on the information provided on the website.