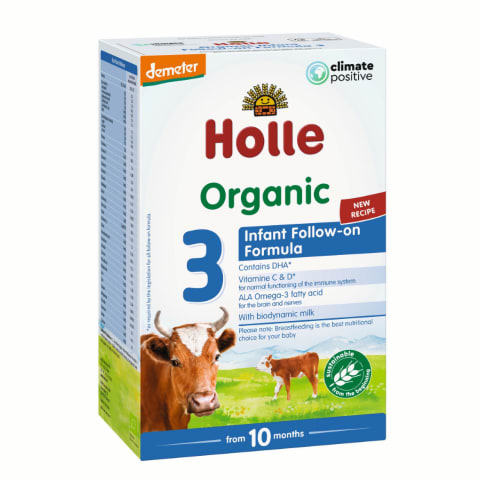 Ekologiškas pieno mišinys HOLLE, 12 mėn., 600 g
Maximum amount is reached
Country of origin

Germany

Brand

Holle

Producer

Holle baby food GmbH

Amount

0.6 kg
Product description
Holle ekologiškas pieno mišinys kūdikiams nuo 10 mėnesių. Motinos pienas yra geriausias maistas kūdikiui. Jis aprūpina visomis būtiniausiomis medžiagomis. Maitinimas iš buteliuko gali sumažinti kūdikio norą žįsti krūtį. Rekomenduojama vartoti produktą tik patarus nepriklausomiems medicinos, mitybos specialistams arba farmacininkams, arba kitiems už motinos ir kūdikio priežiūrą atsakingiems specialistams.Tinkamas kūdikiams nuo 10 mėnesių amžiaus iki trečiųjų gyvenimo metų pabaigos vartoti iš buteliuko arba kaip priedą košėms virti. Tinka vartoti kaip tęsinį po Holle pieno mišinuko nr. 2 arba bet kuriuo metu vietoje kito gamintojo pieno mišinuko, skirto kūdikiams nuo 6 mėn. amžiaus.
Ingredients
nugriebtas PIENAS** (Vokietija), IŠRŪGŲ milteliai*, dalinai mineralizuoti, augalinis aliejus* (palmių*, rapsų*, saulėgrąžų*), maltodekstrinas*, kalcio karbonatas, kalio chloridas, natrio chloridas, vitaminai C, E, geležies laktatas, cinko sulfatas, nikotino rūgštis, kalcio D-pantothenatas, vario sulfatas, vitaminai A, B1, B6, mangano sulfatas, kalio jodidas, folio rūgštis, vitaminas K, natrio selenitas, vitaminas D. ES ir ne ES žemės ūkis
Instructions
Prieš naudojant sterilizuokite, t.y. išvirinkite buteliukus, žindukus ir žiedus verdančiame vandenyje 3-5 min. Užvirinkite reikiamą kiekį vandens ir atvėsinkite iki ~50°C temperatūros. Į buteliuką supilkite pusę reikalingo kiekio vandens. Matavimo šaukšteliu pasemkite pieno mišinio miltelių, o perteklių nubraukite švariu peiliu. Į buteliuką su vandeniu įberkite reikiamą kiekį miltelių. Gerai sukratykite. Supilkite likusį vandenį ir vėl pakratykite. Atvėsinkite iki ~37°C temperatūros ir maitinkite. Nuosekliai laikykitės pateiktos instrukcijos. Naudokite tik pakuotėje esantį matavimo šaukštelį. Laikykitės rekomenduojamų kiekių. Teisingas produkto dozavimas užtikrins, kad Jūsų kūdikis gaus tinkamą kiekį reikalingų maisto medžiagų. Visuomet ruoškite tik šviežią maistą. Nemaitinkite kūdikiui nesuvartotų likučių. Kad apsaugotumėte kūdikio dantukus, neduokite kūdikiui žaisti su buteliuku. Nešildykite pieno mišinių mikrobangų krosnelėse dėl perkaitinimo ir nusideginimo rizikos. Vartojimas: galima kūdikiui šio paruošto pienuko duoti taip dažnai, kaip kūdikiui norisi. Nuo 6 mėnesių amžiaus tęskite kūdikio maitinimą Holle pieno mišinuku nr. 2 kūdikiams nuo 6 mėn. amžiaus bei Holle košėmis kūdikiams. Nurodyti skysčio ir maisto kiekiai yra apytiksliai. Galimi nedideli nukrypimai, kurie yra visiškai nežalingi ir gali natūraliai pasitaikyti.
Additional information
Min storage temp.: 15° C

Max storage temp.: 25° C
| Nutrition | Amount per 100g/ml |
| --- | --- |
| energy | 2025 kJ/ 484 kcal |
| fat | 21.5 g |
| of which saturates | 7.3 g |
| carbohydrate | 58.8 g |
| of which sugars | 41.3 g |
| protein | 13.5 g |
| salt | 0 g |
Warning!
Please follow preperation and storage instructions that are provided on the product packaging. Important notice: Breastfeeding is best for babies. Use milk substitues only in cases when breastfeeding is not an option. If breastfeeding is not an option after 6 months of age - varied diet is recommended. Use only on the advice of independent persons having qualifications in medicine, nutrition or pharmacy, or other professionals responsible for maternal and child care.
**While every care has been taken to ensure product information is correct, food products are constantly being reformulated, so ingredients, nutrition content, dietary and allergens may change. You should always read the product label and not rely solely on the information provided on the website.